Well it's been a while since I yammered on a bout hockey, now hasn't it? To make up for it I'm posting a bit of an NHL roundup, talking about my thoughts on the finals, a Senator that is looking elsewhere, our nations best hopes, a variety of wheeling and dealing, and of course Hamilton, Phoenix, and the story that will never end.
Pen-sational!
Alright so all of the good "Pittsburgh", "Penguin" and "Steel" puns were taken, so this was all that I had left. But the fact remains that it is GREAT to see the Penguins win the Stanley Cup. They have two of the best players in the world, and a fantastic organization from top to bottom. There is nothing to not like about this except if you live in Detroit or are Marian Hossa.
While I still consider Crosby to be the best in the world, it is hard to deny Malkin the Conn Smythe. He had a fantastic run, and scored more points in one playoff series by anyone not named Wayne or Mario. Not too bad. Of course, one could argue that Crosby drew the best of the opposition more often than not (especially against Detroit), so Malkin had it a bit easier, but none the less, well done Geno.
I would also like the record to show that I officially defeated a piece of Chinese Currency and two of my friends (in that order) to claim the Prediction Title for 2009, even with my disastrous Columbus, Montreal, and St. Louis picks.
Bye, Bye Danny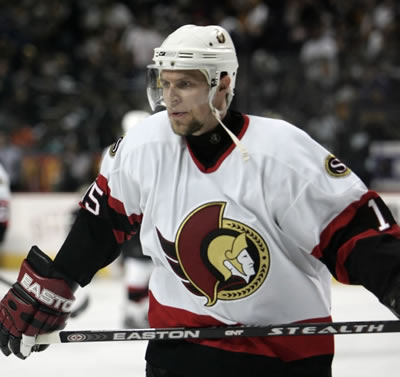 It looks like Heatley is on his way out of Canada's Capital. This is a shame, as I have always liked Heatley's ability, and there are not too many multi-time 50 goal scorers in their 20s playing at the moment, but if he doesn't want to be part of the system, good riddance.
There has been all sorts of talk about which teams are in the market, and if I were a betting man, I'd say that he ends up in LA. They have the cap room and are searching for a big named star. If they end up making a deal for LeCavalier that renders the point rather moot. Not certain if Heatley will waive his no movement clause for a trip to Hollywood, but it would be a good fit for both sides. Let's face it, if he ends up in a hockey-crazed city he'll end up a scapegoat yet again and end up getting jeered for his inability to backcheck. People keep saying the Sharks, as a Thornton-Heatley pairing sounds good, and could probably combine for 200 points in a regular season, but would struggle to get 5 in a playoff season. I hope for the Sharks sake that they stay away, they don't need him.
Olympic Posturing
I think that Heatley's current situation may have really hurt his chances to play in Vancouver next February. Let's face it, the GM of Team Canada, Steve Yzerman is a team first kind of guy, and to take a trade demand public, especially over a coach's decision to put him on the second power-play unit is not Stevie Y friendly.
With Canada having so much depth, with all things being equal who would you choose: someone who is concerned about the amount of goals he scored playing on a team that happened to underachieve (but has potential for next year) or a guy who consistently puts up good numbers for a terrible team and lit it up for Canada on the International stage last year? The second one, right? Replace those names with Heatley and St. Louis and Stevie's job may have just gotten easier.
I think that Thornton and Marleau's sub-par playoff runs really had them drop down on the depth chart with Heatley. The same also stands with Jeff Carter and Mike Green (although they are young enough to be given a pass I think). Crosby and Getzlaf's spot on the roster was never really in doubt, but their runs in the post season really solidified them as the top two centres on the squad I think. Add in Eric Staal's borderline legendary first two rounds, Jonathan Toews clutch play, and Martin St. Louis, Shane Doan, and even Steven Stamkos' world championship and I think some big name forwards may be enjoying a two week break in February.
The back end is slightly more stable. Chris Pronger proved that he can still go, and should not get bumped. Brian Campbell continued to be a disappointment, getting jumped by teammates for the biggest potential move in defense, Duncan Keith and maybe even Brent Seabrook, who did a fantastic job in a shutdown role in the first two rounds. Otherwise there should be little movement on the D from most pre-season predictions.
In between the pipes both Ward and Fleury made some noise for their inclusion on the team, while Price made even his most ardent supporters (I.e. me) question his ability under pressure. However, all of the competition appears to be for the role of third wheel/press box warmer as Brodeur and Luongo seem destined for the top two spots.
Draft Day Dealings
I'm not certain if Heatley will get moved before the draft, since he has a $4 million bonus coming on July 1st which some teams may be hesitant to pay for. However, there are some big names that may get dealt. I think that Philadelphia is going to make some big moves, most likely involving any of Daniel Briere, Simon Gange, and/or Joffrey Lupul in an attempt to clear up some space. They seem to have their sights set on Jay Bouwmeester, and they need to clear up some cap room. I would not be surprised to see them make a trade for Bouwmeester's rights much like they did with Hartnell and Timmonen a few years ago.
In other trade news, I think it's safe to say that the Leafs will NOT end up with Jonathan Tavares. The Islanders would be stupid not to take him at this point. They do not have much going on in their organization, other than Kyle Okposo, and as Pittsburgh and Chicago are showing, a dynamic duo up front can go a long way. Of course, every team needs more than just two forwards, but it is a pretty good start, especially when it comes to marketing. The Leafs talk of trading Luke Schenn is stupid for a variety of reasons. For starters Schenn is going to be a cornerstone of any franchise for years to come, but also because the pick that the Leafs traded for to get Schenn was with the Islanders. If they wanted him, they would have taken him last year, instead of trading down with the Leafs.
That being said, the Leafs will very likely move up in the draft, especially if they dangle Tomas Kaberle out there. I think that they would be very happy to end up with Brayden Schenn (Luke's brother), Evander Kane (Patrick's brother) or maybe Matt Duschene (nobody important's brother) to help their anemic offense.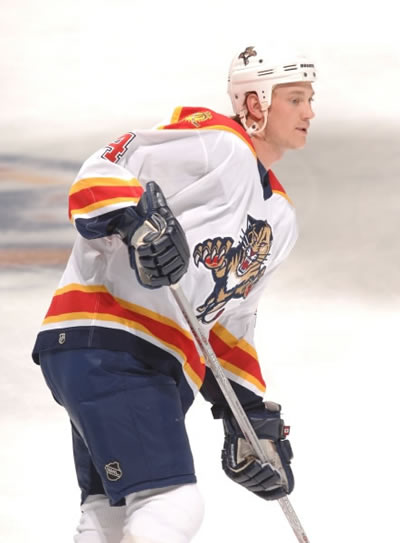 Free Agent Frenzy
In addition to the previously mentioned Bouwmeester there are some big names available. The D-man should be the biggest prize, with some other great options, in particular up front, with Marian Hossa, Martin Havlat, the Sedin twins, Marian Gaborik, and Alex Tanguay being the biggest names.
While it is virtually impossible to predict at this point, I am going to try anyway! I think that the Flyers or Bruins are going to land big Jay, while the forwards are probably going to be scattered about on the following teams looking to make a big splash: Los Angeles (unless they end up with Heatley or LeCavalier), San Jose, Toronto, Montreal, Chicago, and maybe even Florida. I think that the Sedins are going to end up on the Blue Shirts, Hossa in San Jose, Gaborik in Montreal, Havlat resigning in Chicago, and Tanguay maybe even going to Ottawa.
Desert Dogs
It looks like, for the time being at least, that the Coyotes are staying in Phoenix to loose millions of dollars yet again. I, for one, will not claim to be shocked about this one. Sooner or later though, the NHL needs to realize that loosing money is a bad, bad idea. Franchises like Phoenix, Atlanta, Carolina, and Nashville are simply not viable in the long term. They are going to need to move somewhere else eventually. While everyone who understands the game sees that Southwestern Ontario is a better hockey market than the Southwestern United States, it seems like that is just not going to happen for the time being. I imagine that the next team to get an NHL team will be Kansas City, with Las Vegas as an outside second choice.
I think that if a team ever ends up in Hamilton, or anywhere else in Ontario they will probably have to pay $100 million to the Leafs and about $40 million to the Sabres. Ballsillie has deep pockets, but I think that even he has his limits, which is a shame because with the current economic climate a wealthy owner who likes the game sounds like a great idea. But what do I know about economics anyway?
As I said in
my previous post on the topic
, this is not about dollars, or about sense. This is about pride, which is a damn shame.
But fear not Canadian hockey fans, this was Ballsillie's third attempt to get a team in Hamilton, and probably the one that came closest to succeeding. With enough troubled franchises out there, he can always wait until next year.
I guess he has a lot in common with the Leafs on that one.
Until next time,
G