It's that time of a year again...draft season. Last Friday we had a wild NHL Draft (my thoughts on that coming sometime this week, I hope) and tonight we have another sure to be wild draft, this time in the WWE. Now the Draft is one of my favourite days on the WWE Calender, as it really does help kick off the summer season with a lot of intrigue.
Each draft has been very different than any others, however, I think that we might end up sticking to last year's format, where we saw a night of inter-promotional matches where the brand who won the match received the third pick. This gave a reason to have matches in there, and also allowed them to have the majority of changes take place between the much larger Smackdown and Raw rosters. So I think for the first time ever, we will end up with the same format from year to year.
Last year we saw ten wrestlers move on draft night, with a special "Supplemental Draft" taking place on wwe.com which saw another thirteen picks, featuring fifteen wrestlers (London and Kendrick, and The Majors Brothers moved with one pick for each team). However, in October it was announced that Smackdown and ECW would feature a "Talent Exchange" where wrestlers from the two brands would be able to compete on either show. I am going to assume that the two brands are going to be treated separately, even though they very well could be featured as one.
With all of that long preamble out of the way, here are my thoughts for people who will get drafted tonight....
People Who Should be Leaving RAW...


Umaga
When I did
a similar post last year
, Umaga was the first man I predicted to be drafted, saying "
He is in a dire need of a credibility boost and a switch to Smackdown could give him a fresh series of opponents to dominate. A feud with Batista and eventually The Undertaker could be pretty fresh.
".
To me those words are even truer now than they were last year. Umaga is a damn good big man, and he has had far too many loses to Cena, Triple H, or Jeff Hardy in the past 8 or so months. A switch to Smackdown, or ECW just makes sense, as he can resume his feud with Batista and move on to face the Undertaker (upon his return), Kane or the Big Show, in big man matches. Also, he would make a great hurdle for someone like CM Punk or Matt Hardy to climb, much like he has been for Jeff Hardy.
Also, in a recent conference call, Linda McMahon did state that Umaga would be moving brands sometime after Wrestlemania, and well now seems like a good time to do it...
Jeff Hardy
Yes, another one that I am re-predicting from last year. This one just makes too much sense for it not to happen. Back before Wrestlemania, Hardy was on the cusp of being a super star before his drug related suspension, and after he has returned, he has taken a spot as number 4 face on Raw. Since it is not very likely that he will be passing Cena, Triple H, or Shawn Michaels any time soon, he may as well move over to Smackdown, where their crop of top level faces is pretty thin at the moment.
Also, I find it very convenient that Matt Hardy has just started a feud with La Famillia. It seems like a perfect set up to allow Jeff to move to Smackdown and help out his brother take out Chavo and Edge. Ta da! Insta-summer feud!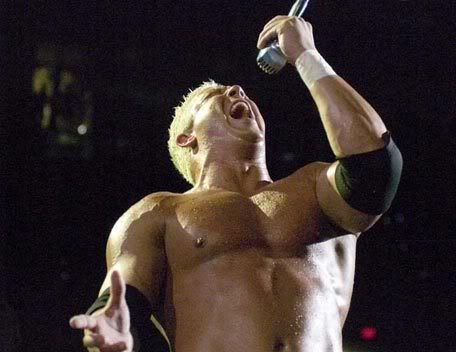 Mr. Kennedy
...KENNEDY!!!!!!
What a rough year it has been for this guy! First he gets poised for a World Title run as the Money in the Bank holder, then he gets injured, looses the case and watches Edge cash the title in. Then he returns and is set to be involved as an associate in the Death of Mr. McMahon angle, only to have that dropped as a result of Chris Benoit's actual death. Then, he is set to be the illegitimate son of Vince McMahon, only to get suspended for drug use a few weeks before the big reveal. Then, after stumbling around for a while, finally catches on as an anti-authority face, only to have Commissioner Regal get suspended. He has had four failed push attempts, and really only one of them (his suspension) was his fault.
He really has lost a lot of momentum, and appears to be lost in the shuffle on RAW. A switch back to Smackdown would be great. He could return to his heelish ways, and feud with Batista and Rey, or he could continue along his edgy anti-authority ways and be a great foil for La Familia. Out of all of the moves I am suggesting, this is the one I think to be most necessary.
Trevor Murdoch
He and Cade split with little fan-fare, only to have a short (and bad) match on RAW. Instead of a prolonged feud, Cade shocks everyone and joins Chris Jericho to take out Triple H and Cena on the last RAW. It appears that the WWE has big plans for Cade, thus leaving Murdoch on the outside.
If they really want to vault Cade up, they need to get rid of someone who would bring him down by association, which really is Murdoch. He would be an interesting lower-card heel on Smackdown, or a mid-card act on ECW. I don't think that he has a ton of potential as a singles guy, but he could always team up with someone else who is currently floundering (my suggestion is farther below) to help keep the tag division going.
People Who Should be Leaving ECW...
Big Daddy V
One of the few success of last years draft is this guy. He went from being a mid-card comedy act to a legitimate monster with a simple change of scenery and new name. Big Daddy V was reportedly sent home on Wrestlemania weekend to loose some weight. This would be a great chance to bring him back without really having to explain "Ohh he's back now" and give him some momentum upon his return, similar to what they did with Mr. Kennedy (Kennedy!) and King Booker last year.
Also, since I predicted Umaga will be leaving RAW, there will be a bit of a "Monster Gap" as they will be short one other big guy to serve as a frightening stumbling block for mid-car faces.
Elijah Burke
Burke is in dire need of some reinventing. A year ago he seemed destined to be a superstar, but now he rarely makes television. He has started referring to himself as "The Black Pope", which is something that I think has a lot of potential. However, in order to really let it take off, a simple switch of brands could make it happen. It did work after all for both John Morrison and Big Daddy V. I would love to see him move to Smackdown and make some waves in the US Title Scene.
Also, there was talk of moving him to RAW in exchange for Shelton Benjamin back in the fall, however, they just moved Shelton and left Burke on ECW. Perhaps they are ready to make that change now.
CM Punk
Here we are the third one that I am re-predicting to move. I just don't see what else Punk can do on ECW. He has feuded with (and beaten) pretty much every name on that roster. Not only that, but there is very little opportunity for upward mobility since Kane and the Big Show seem to be slotted in above him at the moment.
There have also been many rumours lately of CM Punk getting a big push in the future due to his appeal to children. I think that he may end up moving to RAW to get more exposure. Of course, he could add instant credibility to the Intercontinental Title, and there is always the threat of him cashing in his Money in the Bank shot at any moment.
People Who Should Leave Smackdown!...
Deuce
This is hardly a mega-stop-the-presses type draft pick, but it is one that I feel is totally necessary. Deuce and Domino have recently split up, and I don't think that anyone really wants to see those two have a match, so it would just be easier to separate them both.
More important to this move, is a strongly rumoured plan to develop this summer. There has been a lot of talk of running a 2nd Generation stable, featuring Ted Dibiase Jr., Cody Rhodes, and DH Smith. While it hasn't really been mentioned on TV, Deuce is actually the son of the legendary Superfly Snuka, so he would fit in to that stable very naturally. This obviously leaves Domino out in the cold on the blue brand, but he could easily find a new partner and continue to wrestle in the tag division, I think that having Trevor Murdoch team up with Domino would have potential for hilariousness.
Kenny Dykstra
Remember when this guy was positioned as a "Can't Miss Main Eventer"? Yeah I barely do to...but the point is that it's true! He was considered a future star, and given every chance to shine as a member of the Spirit Squad. Then it seemed like he had some potential when he tried to join Rated RKO, and helped them beat up Ric Flair, but then something happened....he started to loose, and nobody cared. He fell down the card so fast, and then was shipped off to Smackdown in last year's draft.
I held out hope that Dykstra would be given a fresh start and an opportunity to climb another ladder, but alas that didn't happen. Here we are one year later and he has accomplished next to nothing on Smackdown! A move to ECW to freshen up his character would be extremely beneficial. If it works for The Miz, surely it could work for someone with more talent!
Montel Vontavious Porter
Since he dropped the US Title to Matt Hardy back in May, MVP hasn't really been doing too much of anything. Normally, I would consider this a sign the management does not have any plans for someone, but MVP is simply too good for that. He has all of the tools necessary to be a Main Event Superstar. However, with the heel side being firmly held by La Familia, there is very little opportunity for him to make the next step on Smackdown. But on the RAW side, he has a tremendous opportunity to climb the ladder in short order, especially with Orton's current injury.
I seriously think that an MVP-Cena feud has an insane amount of potential and could Main Event a Pay-per-view.
Well there are 10 people in total who should get a change of address. Other candidates could include Finlay, Natalya, Batista, Matt Striker, Carlito, Santino Marella, Chris Jericho, or Shawn Michaels (if they want to pull a shocker).
Tune in to RAW tonight to find out, I'll post my thoughts on the draft (and the NHL one) later on this week.
Until next time,
G