Earlier this week, the NHL Announced the two All-Star Teams, and there were many obvious choices (Crosby, Zetterberg, LeCavalier) and a few surprises (Keith, Osgood). But more importantly, there were many glaring omissions. As such, I proudly present you with the first ever Glenergized No Star Team. Where I take another All-Star team out of the players that were omitted from the mid-season classic. I will follow the standard All-Star selection rules, that every team needs to have at least one player represented at the game. Today I kick things off with the Eastern Conference, and I'll chyme in with the Western Conference No-Star Team tomorrow.
For the starting line-up we will have:
Mats S
undin

Toronto Maple Leafs
Credentials:
Regular readers of this blog will know how much I loathe the Toronto Maple Leafs, but even I will admit to being impressed with their Captain this season. He is getting older, and has next to know supporting cast (as he has for much of his career) yet he continues to sit in the Top 15 in NHL Scoring, yet again. If the Leafs
somehow
make the playoffs then Sundin deserves the MVP, hands down. So I begrudgingly make him my starting Centre for the Eastern Conference.
Evgeni Malkin

Pittsburgh Penguins
Credentials:
The NHL missed a golden opportunity to have a Crosby-Malkin-Ovechkin line. It would simply be a thing of beauty and no doubt create some All-Star memories to last for years. Like Sundin, he sits in the Top 15 in scoring, but he brings something that the Leafs Captain can't bring, style. Malkin would be pretty damned impressive to watch in the skills competition, and in playing in a game with next to no checking or defense played. The league really missed a chance to market one of their future stars by having him sit this one out.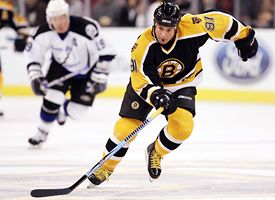 Marc Savard

Boston Bruins

Credentials:
Perhaps the most underrated player in the NHL Today. Savard is once again in the Top 10 in the league in assists, and he does it quietly, game in, game out with very little fuss or attention. While I took Malkin because he is all style, Savard, eager to deflect the attention, would be the perfect player to feed to him.
(EDITOR'S NOTE: Original picture of Patrice Bergeron has been updated, many thanks to Doug for pointing that one out...I guess it shows just how underrated Savard is if Google Images doesn't even have pictures of him. SECOND EDITOR'S NOTE: I took a picture straight from tsn.ca/nhl from the article where they discussed Savard's addition to the All-Star team and gave it no thought...it turns out that was a picture of Jiri Slegr. I guess the third time is a charm)
Defensemen


Tobias Enstrom

Atlanta Thrashers



Credentials:

While there may be a few omitted Eastern D-men who deserve the start more than Enstrom (barely mind you), I do need to remind you that the game will be held in Atlanta this year, so this gives a great opportunity for a rousing hometown ovation. This is far from a sympathy pick, as Enstrom has evolved into a Top Power-Play Defenseman this season, and is totally deserving of a spot on the No Star Team (if not the actual All-Star Team)

Mark Streit

Montreal Canadiens
Credentials:
Quick who is the highest scoring defenseman that won't be playing in the All-Star game? The answer (if you didn't figure out by the heading) is none other than Mark Streit, who is currently 10th in scoring among blueliners. Surprsied? I know that I am! Streit has been an excellent compliment to Markov on the powerplay, giving the surprising Canadiens another weapon with the man advantage. He deserves a ton of credit for their success this season.


Goalie

Henrik Lundqvist

New York Rangers
Credentials:
He is easily the most glaring omission on the Eastern Front. While his play has slipped a bit this past week, before that it was nothing short of spectacular. He is currently second in the NHL in Shut Outs and near the top in Wins and Goals Against Average. On top of that, he has helped take a team that has struggled offensively and kept them competitive. I really don't understand how the league went with DiPietro over him, for shame Bettman, for shame.
And now for the reserves....
Forwards


Alexi Kovalev
(

Montreal Canadiens)

- Showing a career rejuvenation this season, as the talented, but enigmatic, forward has been posting some surprisingly solid numbers for the Habs.

Oli Jokinen

(Florida Panthers)

- Jokinen has been posting solid numbers for the struggling Panthers, yet again. I was really quite shocked that he didn't get the nod for this game, but I guess Vokoun has been playing well enough.


Ray Whitney
(Carolina Hurricanes)
- Another player, like Sundin, who seems to defy the odds and post solid numbers year after year.
Vaclav Prospal
(
Tampa Bay Lightning
) - It's a contract year for him, so he's playing well. Do not expect the same out of him next year, but for now, well done!
Mike Comrie
(New York Islanders)
- I guess the real reason that DiPietro edged Lundqvist for the All-Star game is because Comrie was the next best choice to represent the team. The little guy has done well on the Island, so we'll be happy to take him!
Zach Parise
(
New Jersey Devils)
- The young forward's emergence is a big reason why the Devils don't seem to be missing Scott Gomez this season. Plus he can play the other end of the ice quite well to.
Daniel Briere
(Philadelphia Flyers)
- The reigning All-Star MVP was narrowly edged out by teammate Mike Richards to get his team's nod in the big game. Briere, is having another great season, despite injuries to his linemates Gagne and Lupul.
Jason Pomminville
(Buffalo Sabres)
- Someone has to make it for lousy teams and Campbell made it to the other game...
Cory Stillman
(Carolina Hurricanes)
- Now I had already started a right up for Jaromir Jagr, joking that I wanted to hav him on my 4th line, but then I noticed just how well Mr. Stillman has done, so Jagr gets bumped. Like teammate Whitney, Stillman seems to be drinking from the fountain of youth yet again this season, as he has been posting career numbers, so he definitely deserves a spot here. Sorry Jagr...
Defensemen


Michal Roszival

(New York Rangers) -

He has been a solid power play specialist yet again this season, sure he's a defensive liability, but that's the fun of All-Star games!!!



Wade Redden

(Ottawa Senators

- Recovered from a fairly sub-par season to resume his usual solid play at both ends of the ice. Sure his contract is once more up for renewal this year, but I guess we can leave the cynicism elsewhere for this game....



Mike Green

(Washington Capitals)

- I'm not going to lie, there are two main reasons for him to be on this list. First off, he has scored 8 points in the last 5 games, and secondly I needed a Capital, and there wasn't quite enough room for Nylander up front. But to his credit, the sophomore d-man has already doubled his totals from his rookie campaign, and has shown a tremendous upside this season.



Paul Ranger

(Tampa Bay Lightning)

- Freak injuries to Dan Boyle have thrust Ranger into the spotlight far earlier than was expected. However, he has played well as the main quarterback for his teams power play, despite minimal support from all but the top of the team.


Goalies


Tim Thomas
(Boston Bruins)
- I can't help but feel bad for this guy. All he does is play his heart out and succeed, and his team constantly looks for replacements. First with Manny Fernandez, and then Alex Auld, the team seems to have no faith in this guy, no matter how well he plays. For what it's worth, I believe in you!
Martin Gerber
(Ottawa Senators)
- He got chased out of Carolina, and was close to getting booted from the Senators, but an injury to Emery at the start of the season forced the Sens to put their confidence into Gerber, and boy did he excel! He is near the top of the league in wins, despite splitting the duty with Emery, and has been spectacular at times this season.
So that's my team, I'd like to issue apologies to the following players for barely missing the cut: Nik Antropov, Michael Nylander, Bill Guerin, Mark Recchi, Martin Biron, Randy Jones, and Jaromir Jagr.
I hope that you enjoyed the first No-Star Team, tune back in tomorrow for the Western side of the coin!
Until next time,
G