Last year,
I made some bold and daring predictions for the Year 2007,
and now, 367 days later I see how my clairvoyant abilities turned out....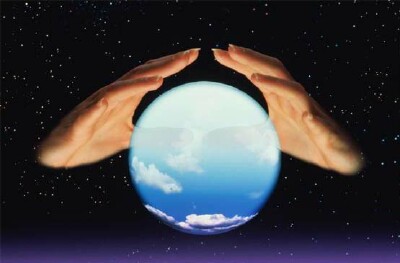 1. A Liberal Minority – Wow, was I ever wrong with this one!!!! While I still think very highly of Mr. Dion, he has not exactly set the country on fire, as the Conservatives are still leading the poll, and somehow, someway, Canada avoided an election during 2007.
2. The Arcade Fire's New Album Will Kick All Sorts of Ass – Alright so this one was a bit of an easy prediction, as
Neon Bible
was my pick for best Album of the Year, in a year that really was full of some artistic brilliance. Follow
this link
to find out exactly why I loved this one so much....
3. Canada Will Win More Hockey Gold – I thought that I was going out on a bit of a limb here, as we don't always win the Men's World Hockey Championships, but hoorah, the boys won a medal for me!!! Also, add to the fact that we won yet another Women's World Championship, we took the Under 17 tourney, and of course the Under 20 just a few days ago, and things are looking up for hockey in our country.
4. I Will Go To At Least Three New Countries – Done and done. I went to China and Vietnam in April, some jaunts into Hong Kong and Macau in May (while sort of part of China, they have their own border patrols, and currency, making them more of their own country than say, Scotland), plus I just made the trip to both the French and Dutch West Indies, not sure if those count as separate entities from their mother countries or not...either way, I'm up on this one.
5. "Here We Go Again" by OK Go Will Remain the Coolest Music Video I Have Ever Seen -
Duh...
6. I Will Retire from Kodiak – I'm still non-commital on this one, I think that I won't be heading to my Home Away From Home for the entire summer this year....we shall see though.
7. The US will not leave Iraq, but Canada will leave Afghanistan – A half-botch here, as the US, predictably decided to stay in Iraq, and sent a "surge" to boot, where as Canada has stuck around in Afghanistan, despite a growing amount of opposition and repatriation ceremonies.
8. This Blog Will Hit 200 Posts – Well this is my 216th post, so...well met.
9. Some New Indie Band Will Blow My Mind – The term "Indie" is a hard one to define, as many of these bands are in fact on major labels. But I will say that it came true, as I fell even more in love with Stars and Wilco than before, discovered Guillemots, Besnard Lakes, LCD Soundsystem, and The National. Surely one of those must be an Indie Band of some sort.
If you don't know any of those artists then type some of their names into YouTube and be prepared to be amazed, if you are too lazy here is "
Fake Empire
" by The National
Awesome, eh?
10. I Will Not Eat Meat – That's right still going strong without the flesh. In fact, I think that I've become a bit more passionate about this over the past 12 months, as more and more
has made its way onto this blog.
11. Samoa Joe Will Win the NWA World Title – Man, oh man, another epic fail!!! Samoa Joe has every right to be World Champion, yet somehow, someway, TNA has failed to do so. They had three EXCELLENT opportunities to give him the gold this year and botched every one of them.
12. The Temperature Will Only Get Higher – Can I point out that yesterday in Toronto it was 15 Degrees outside? Can I also point out that it's F'n JANUARY?!?!?!??!?!
Score one more for the G Man
13. I Will Have a Great Year – This year was yet another Roller Coaster for me, but what the heck, I wouldn't want it any other way, so yes, another great year for me.
I guess that leaves my final score to be 9-2-2, not bad I dare say, even if some of the picks were pretty obvious. Over the next few days I will put forward some more predictions for 2008, and I hope to have an even better record in the coming year!
Until next time,
G